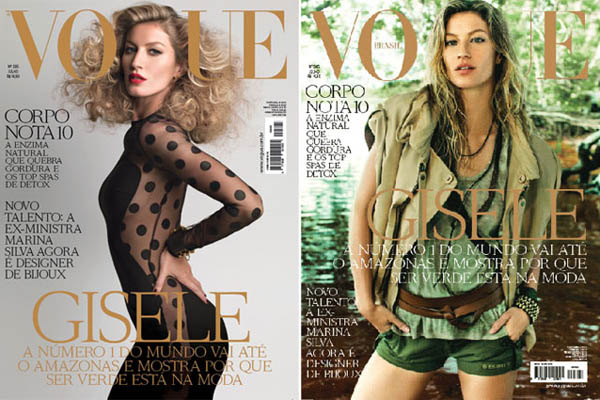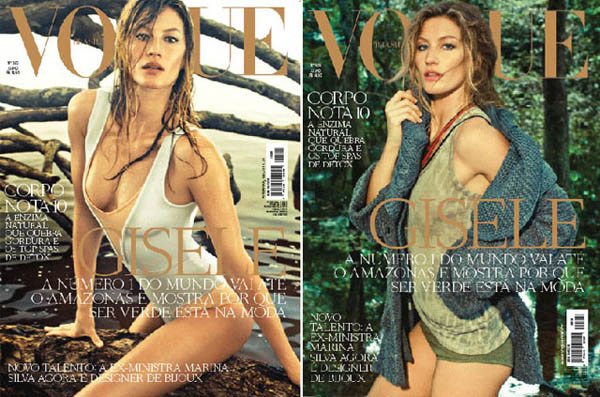 Gisele Bündchen, the amazing and extremely gorgeous supermodel, stars not one, but four versions of the July cover of Vogue Brazil. She appears in many different climates: glamorous, military and (already anticipating the 2012 summer swimwear) at the beach. The covers are pictures of the fashion editorials she also photographed for the magazine: Gisele was photographed in the Amazon by Jacques Dequeker and in New York by the renowned fashion photographer Patrick Demarchelier. Altogether, there are 32 pages of Gisele to watch out.
Look how extraodinary are these shoots! The use of natural light combined with artificial lights ended up in a very good photography final product - the photoshoot could only been signed by these two amazing and very known professional photographers. Besides, Giseles work in front of the cameras will never let the readers down.
"How to select only one photo of her?" Asked the editorial director of Vogue. "There was no consensus, so we decided to publish four"
he says.
What's your favourite one? I think I'm amazed with all of them.
There is, yet, another surprise: the subscribers will gain a fifth version, so if you're reading this from Brazil, run for your life and get your Vogue right now (and send me an exemplar too!) - I promise you wont regret it.